Pour lire cette présentation en français ↗️ cliquer sur le drapeau français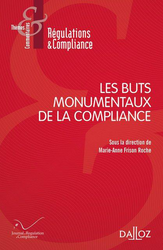 ► Full reference: Bismuth, R., Compliance et Souveraineté : relations ambigües ("Compliance and Sovereignty: ambiguous relationships"), in Frison-Roche, M.-A. (ed.), Les buts monumentaux de la Compliance, series "Régulations & Compliance", Journal of Regulation & Compliance (JoRC) and Dalloz, to be published.
___
► Article Summary (done by the author): : At first glance, the notion of Sovereignty is difficult to combine with Compliance. Indeed, Sovereignty is part of Public International Law in a logic of essentially territorial distribution of competences, while Compliance has developed and disseminated in companies with tools and methods which largely ignore borders.
A closer look reveals more fundamentally three types of ambiguous interactions between the two. Compliance can first of all be understood as a tool allowing States, by relying on companies, to circumvent the obstacles and limits posed by a Sovereignty conceived in territorial terms and therefore to extend it. Such an approach can nevertheless lead to friction or even conflicts between Compliance and Sovereignty, the norms conveyed by the first not necessarily being in line with those imposed by the second.
This is particularly true when the Compliance "Monumental Goals" are not unilaterally defined or are not intended to be. Finally, by infusing companies with instruments and methods that are reminiscent of sovereign functions, compliance can also allow us to imagine an emerging movement tending to gradually establish Corporate Sovereignty beyond that of States.
___
📝 Go to the general presentation of the book in which this article is published.
____