Direction of the collection : "Cours Dalloz - Série droit privé"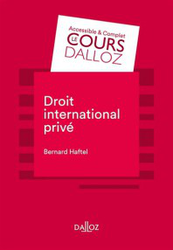 Référence complète : Haftel, B., Droit international privé, 2e éd., Coll. "Cours Dalloz-Série Droit privé", Dalloz, 2020, 390 p.
L'ouvrage comprend une partie générale, consacrée aux conflits de lois et aux conflits de juridictions, puis une partie spéciale.
Celle-ci reprend l'application du Droit international privé aux personnes ("statut personnel"), aux biens, aux obligations ainsi qu'au droit patrimonial de la famille.
Consulter la table des matières.