ComplianceTech ®.Pour lire cette fiche en français, cliquez sur le drapeau français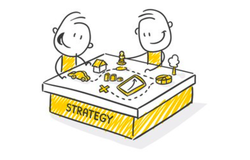 Full reference: Frison-Roche, M.-A., Risk Mapping: is it legally different when it is made by Regulatory Bodies or by Regulated Enterprises?, in Newsletter MAFR - Law, Compliance, Regulation, 17th of August 2020
Read, by freely subscribing, other news of the Newsletter, MAFR - Law, Compliance, Regulation
To go further, read Marie-Anne Frison-Roche's working paper: Legal Theory of Risk Mapping, center of Compliance Law
Summary of the news
Risk mapping, until recently exclusively set up spontaneously by companies, is a tool more and more used by regulators, like the AMF (French Financial Markets Regulator) which publishes every year a risks and markets mapping.
Regulators map risks in order to perceive better what are the regulation needs of the sector but also in order to communicate, specially with regulated firms. Regulators make mapping made by themselves available in order to furnish to regulated companies a precise methodology that they could follow when they would have to make their own risk mapping, imposed by Law.
Regulators having authority over regulated firms, this help could quickly be transformed in injunction to follow the conception adopted by the regulator for the firm which have to realize its own risk mapping. We can imagine that the firm must justify if it does not take back the spirit of the risk mapping published by the regulator (comply or explain).