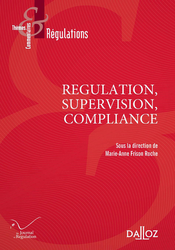 General reference: Frison-Roche, M.-A. (dir.), Régulation, Supervision, Compliance, collection "Régulations", Dalloz, 2017.
Consult the summary of the work.
Consult the Series in which the work is published by Éditions Dalloz.
____
Presentation of the book
Regulation. Supervision. Compliance.
Three terms that were almost unknown to legal systems until recently. Or at the very least considered specific to Anglo-American legal systems: Regulation, Supervision, Compliance. So many expressions which would constitute like Trojans by which the Common Law Law would seize our legal traditions to better bend the European companies, in particular the banks, and to appropriate the institutions, to impose the methods.
Three words by which the invasion is operated. By the violence of repression and the penalties for compliance, by the gentleness of codes of conduct and corporate social responsibility. By laws as new as they are strange, such as the so-called "Sapin 2" law or the law establishing a "duty of vigilance" for companies whose fault would be to have successfully deployed internationally.
We can have this defensive conception of Compliance, in the process of generating a "Compliance Law", produced by the internalization in global economic operators of Regulatory Law, which are then subject to supervision by the regulators, even though they are not regulated, Compliance extending beyond the supervised sectors (banks and insurance companies).
We can have a more welcoming, and therefore more offensive, concept of Compliance. This can be the crucible of a relationship of trust with a supra-national dimension between these operators and the regulators, the former being able to contribute like the latter to serve goals that surpass them all and including the fight against corruption and money laundering are just examples.
Collective work, with articles from:
Jean-Bernard Auby,
Jérôme Béder,
Alain Bénichou,
Jean-Michel Darrois,
Loraine, Donnedieu de Vabres,
Isabelle Falque-Pierrotin,
Marie-Anne Frison-Roche,
Benoît de Juvigny,
Bruno Lasserre,
Arnaud de La Cotardière,
Jean-Claude Marin,
Didier Migaud,
Yves Perrier,
Jean-Marc Sauvé.