Pour lire la présentation de cette conférence en Français, cliquer sur le drapeau français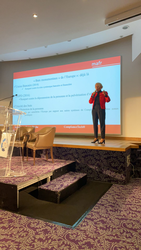 Full reference : Frison-Roche, M.-A., Le "Droit européen de la Compliance" : un rempart contre la crise ? ("European Compliance Law": a bulwark against the crisis?") in Option Finances, Les Défis Conformité / Compliance (Conformity/Compliance Challenges), 15th of September 2020, Paris.
Read the program (in French)
Read the slides of the intervention (in French)
It was possible to attend to the manifestation in live
A bilingual video will be aviaible soon.
Summary of the intervention:
This intervention as keynote speaker was at the articulation between the first two sessions, one on "strategy in times of crisis" and the other on "good governance", and the third session on technology.
Because the question is: "?Does Europe has the pretension to prevent crisis, thank to Compliance Law ?" The answer must be: Yes or No.
If Europe has this pretension to allow answering Yes, and it must have it, it must have, through its public institutions and the crucial European companies - expressing their raison d'être - a clear, simple and coherent vision of the "monumental goals" that it pursues.
Compliance Law is adequate for such an "enterprise" (an "enterprise" always being an "adventure"!footnote-1902) since it is defined through its monumental goals, including crisis prevention, for which Europe must and is able to develop an exemplary model.
When this is done, and it is in the process of being done, it is necessary but sufficient to carry out the technical work of adjusting the legal technical tools with these monumental goals.
____