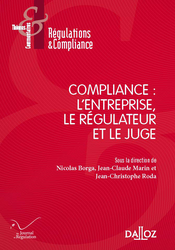 Référence complète : Frison-Roche, M.-A., Entreprise, Régulateur, Juge : penser la compliance par ces trois personnages, in Borga, N., Marin, J.-Cl. et Roda, J.-Cl. (dir.), Compliance : l'entreprise, le régulateur et le juge, Série Régulations & Compliance, , Dalloz, 2018, p. 1 à 11.
Lire une présentation générale de l'ouvrage dans lequel est publié l'article.
Consulter les autres titres de la Série dans laquelle est publié l'ouvrage.
Lire le document de travail sur la base duquel s'appuie l'article
Read the working paper on which the article is based : Enterprise, Regulator, Judge: thinking Compliance by these three Characters.
Lire la présentation de l'autre article de Marie-Anne Frison-Roche dans cet ouvrage : Compliance : avant, maintenant, après.
_____
RÉSUMÉ : L'Entreprise, le Régulateur et le Juge sont trois personnages capitaux pour la construction d'un Droit de la compliance qui émerge. Un risque important tient dans une confusion de leur rôle respectif, l'entreprise devenant régulateur, le régulateur devenant conseil d'une place qui va à la conquête des autres, le juge se tenant en retrait. Il convient que chacun tienne son rôle et que leur fonction respective ne soit pas dénaturée. Si cette confusion est évitée, alors les points de contact peuvent se multiplier et on l'observe. Mais dès l'instant que chacun reste à sa place, l'on peut aller plus loin que ces points de contacts et s'ils en étaient d'accord, les trois personnages peuvent tendre vers des buts communs. Cela est d'autant plus légitime que le Droit de la Compliance, comme le Droit de la Régulation est de nature téléologique, ce qui rend ces branches du Droit profondément politiques. Ces buts communs sont techniques, comme la prévention des risques. Ils peuvent être plus politiques et plus hauts, s'il y a une volonté partagée, sans jamais l'un des personnages se fonde dans un autre : il s'agit alors de se soucier avant de l'être humain. La désignation de ce but commun à l'Entreprise, au Régulateur et au Juge peut s'exprimer par un mot : l'Europe.
ABSTRACT: The Company, the Regulator and the Judge are three key figures for the construction of an emerging Law of Compliance. An important risk lies in a confusion of their respective roles, the company becoming a regulator, the regulator becoming a board of a place that goes to the conquest of others, the judge standing back. It is appropriate that each plays his role and that their respective function is not distorted. If this confusion is avoided, then the points of contact can multiply and one observes it. But as soon as everyone remains in their place, we can go further than these points of contact and if they agreed, the three characters can reach common goals. This is all the more legitimate since the Law of Compliance, as the Law of Regulation, is teleological in nature, which makes these branches of law profoundly political. These common goals are technical, such as risk prevention. They can be more political and higher, if there is a shared will, without ever one of the characters being captured by another: it is then to concern by the human being. The designation of this common goal to the Company, the Regulator and the Judge can be expressed in one word: Europe.