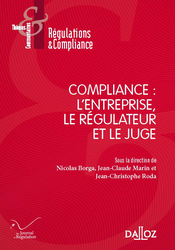 Référence complète : Frison-Roche, M.-A., Compliance : avant, maintenant, après, in Borga, N., Marin, J.-Cl. et Roda, J.-Cl. (dir.), Compliance : l'entreprise, le régulateur et le juge, Série Régulations & Compliance, Dalloz, 2018, p. 23 à 36.
Lire une présentation générale de l'ouvrage dans lequel est publié l'article.
Consulter les autres titres de la Série dans laquelle est publié l'ouvrage.
Lire le document de travail sur la base duquel s'appuie l'article
Read the working paper on which the article is based : Compliance : Before, Now, After.
Lire l'autre article publié par Marie-Anne Frison-Roche dans cet ouvrage : Entreprise, Régulateur, Juge : penser la compliance par ces trois personnages.
______
Résumé : Autant l'admettre. Parce que devant des règles de "Compliance si nombreuses et si disparates l'on a tant de mal à s'y retrouver, l'on est contraint à partir dans des directions si changeantes, que nous nous consolons de leur poids, de leur coût et de l'incompréhension que nous en avons en disant que la "Compliance" est "complexe" et "transdisciplinaire", comme si les mots compliqués pouvaient masquer notre désarroi. Mais la "Compliance" n'est pas un cataclysme, une bombe envoyée par les américains pour anéantir l'Europe, la nouvelle forme d'une Guerre froide en habits juridiques ; c'est une façon de voir des choses qui vient de loin, avec une cohérence qui lui est propre et qu'il faut avant tout comprendre. Pour mieux s'y déployer.
Si l'on comprend d'où vient ce nouveau corpus qui contraint aujourd'hui les entreprises à prouver qu'elles prennent effectivement en charge la concrétisation de certains buts qui les dépassent, notamment la lutte contre le blanchiment d'argent, la fraude fiscale, mais aussi la lutte contre la vente des êtres humains ou la lutte pour la préservation de la nature et de la planète, alors l'on peut continuer l'histoire, dans une nouvelle alliance entre certaines entreprises et les autorités publiques.
En effet, toutes les entreprises ne sont pas visées par une telle internalisation de "buts monumentaux" en leur sein. Une entreprise ordinaire a quant à elle vocation à se développer pour réaliser un but qui est le sien. Le système de Compliance ne peut concerner que des "entreprises cruciales". S'il doit y avoir changement de projet poursuivi par l'entreprise, cela ne peut tenir qu'à sa "position" dans un système. Cette position peut avoir une source objective (entreprise systémique) ou une source subjective, parce que l'entreprise veut concrétiser ces buts globaux car elle veut être "responsable". Dans ce cas, l'entreprise supporte alors la charge de preuve qu'un tel discours de responsabilité nouvelle correspond à un comportement et à une culture effective. Le poids des règles existe déjà aujourd'hui. Et c'est encore comme cela qu'aujourd'hui d'une façon négative et passive que la Compliance est perçue, par ceux qui la "subissent" (entreprises), voire par ceux qui l'appliquent (autorités publiques).
La transformation vers une "culture de confiance, c'est l'enjeu d'un passage entre aujourd'hui et demain. En effet demain, c'est une relation de confiance qui pourrait se construire entre ces entreprises-là et les autorités publiques, parce qu'elles partageaient les informations (enjeu systémique), parce qu'elles seraient d'accord sur les buts monumentaux (tous centrés sur la protection des êtres humains, que le seul fonctionnement marchand ne peut produire, que les seuls États ne peuvent assurer).
En cela, la "Compliance" est avant tout un pari, celui de la place des êtres humains sur des marchés mondialisés.
Summary. We have to admit, because we find it difficult to find ourselves in front of so numerous and disparate rules, going in all directions and constantly changing, we console ourselves with their weight, their cost and our misunderstanding by affirming that Compliance is "complex" and "transdisciplinary", as if complicated words could mask our disarray. But "Compliance" is not a cataclysm, a bomb sent by the Americans to annihilate Europe, the new form of a Cold War in legal dress, it is a way of seeing things that comes from afar, with a coherence of its own and which must first be understood.
If one understands where this new corpus comes from, which now obliges companies to prove that they effectively take on the fulfillment of certain goals that go beyond them, notably the fight against money laundering, tax evasion , but also the fight against the sale of human beings or the struggle for the preservation of nature and the Earth, then we can continue the story.
Indeed, not all companies are targeted by such internalization of "monumental goals" within them." An ordinary enterprise is destined to develop itself in order to achieve a goal which is its own. The concern of these goals can only be for the "crucial enterprises. "If there is to be a change in the corporate project, then it can only depend on its" position "in a system, a financial, economic, social, global system, or because it has itself decided that it would be so. The company then bears the burden of proof that such a discourse of new responsibility corresponds to a behavior and an effective culture. The weight of the rules already exists today. And it is for the moment that now, in a negative and passive way, Compliance is perceived, by those who "undergo" it (companies), even by those who apply it (public authorities).
The transformation towards a "culture of trust" is the issue between today and tomorrow, because tomorrow, it is a relationship of trust that could be built between these companies and the public authorities, because they would share information (systemic issue), because they would agree on the less technical monumental goals (protection of human beings issue).
In this, "Compliance" is above all a bet, that of the place of human beings in globalized markets.